Theme Pavilions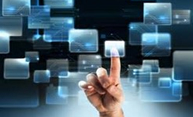 Touch Pavilion
The Best Platform for Chinese Touch Industries Cooperation
Touch panel was used in more and more different areas. China has become the world's major production base of touch Panel industry. It covers manufacturing, equipment, materials, software, applications, services, etc.

OLED Pavilion
The most professional OLED pavilion
With manufacturers of OLED production, equipment, materials, applications and other related areas, OLED pavilion will present you the hottest field today.